KURROCK VIETNAM TOUR
"Japan's first Vietnamese rock band 'KURROCK' to hold their first Vietnam tour."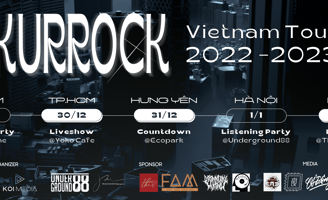 The six-member rock band "KURROCK" consisting of five Vietnamese and one Japanese member, based in Tokyo, will hold their "KURROCK VIETNAM TOUR 2022-2023" from December 28, 2022, to January 2, 2023. The tour will feature five performances in three cities: Ho Chi Minh City, Hung Yen Province in the northern Red River Delta region, and Hanoi.
Known as Japan's first Vietnamese rock band, KURROCK was formed in October 2020 and consists of six members: KJO, Heather, TroK, Sang, Danna, and Daisuke. Their music is based on rock and incorporates each member's background. They value self-production and incorporate Vietnamese and Japanese concepts in the visual aspects of their lyrics, instruments, music videos, and song titles.
The schedule for the Vietnam tour is as follows:
<Ho Chi Minh City>
- December 28, 2022 (Wed) 20:00-22:00: Listening Party @ Analog Zone (can 595/001 Chung cu lo 96, Cach Mang Thang 8, phuong 15, quan 10)
- December 30, 2022 (Fri) 19:30-23:00: Live show @ Yoko Cafe (22 Nguyen Thi Dieu, phuong 6, quan 3)
<Hung Yen Province>
- December 31, 2022 (Sat): Countdown @ Ecopark
<Hanoi>
- January 1, 2023 (Sun) 20:00-22:00: Listening Party @ Underground88 (88 Yen Phu, phuong Yen Phu, quan Tay Ho)
- January 2, 2023 (Mon) 19:00-23:00: Live show @ Tho Symphony (8 Nguyen Cong Hoan, quan Ba Dinh)